Every KOBI product
starts and ends with a cork tree
A step-by-step breakdown of how tree cork is transformed into KOBI's premium cork handbags and wallets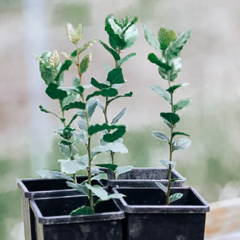 Quercus suber, more commonly known as the cork oak, is native to southwest Europe and northwest Africa due to its Mediterranean climate. 34% of the world's cork oak forests are located in Portugal, making it the largest producer of cork in the world. In Portugal, cork oak trees are either sown or planted in the European Spring from March to May or propagate spontaneously when their acorns fall onto the ground.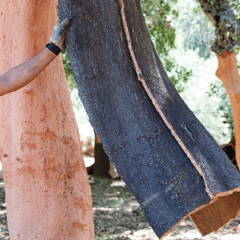 The ancient process of stripping cork is highly specialised and done by hand using an axe. Cork trees are first stripped when they are 25 years old and every 9 years thereafter. It is not until the third stripping, when the tree is over 40 years old, that the raw material called "amadia" cork has a regular structure suitable to produce high quality handbags and wallets. The trees are marked with the last digit of the year it was harvested to promote sustainable harvesting. On average, a cork tree can be harvested 17 times in its lifetime.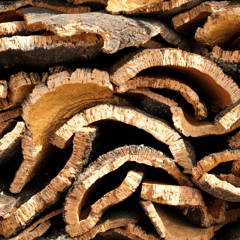 After harvesting, the cork planks are stacked outdoors in piles in compliance with the Codes of Cork Manufacturing Practices. The cork is then left for at least 6 months to allow the cork to air dry and stabilise.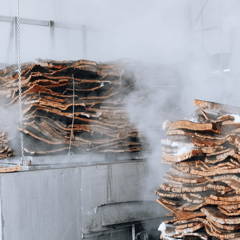 Once dried, the cork is boiled free of chemicals for one hour to reduce its humidity, making it soft and workable. The rough exterior is removed, leaving the high quality natural cork to be trimmed into blocks. The blocks are then applied with heat and pressure and sliced into thin sheets. Cork is stain resistant so the sheets are dyed under high temperatures and pressure so the colour is maintained. For increased flexibility and durability, the cork is backed with fabric forming beautiful cork 'leather'.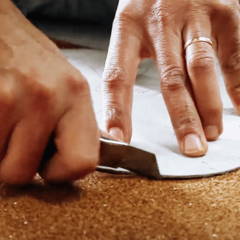 KOBI handbags and wallets are handcrafted by a family run business in a small town in Portugal. High quality cork is combined with the traditional skills of local artisans and laser cut technology to create eye catching designs that make an impact! Designs are made with precision and finesse in small batches with each handbag taking hours to make.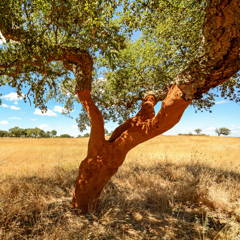 In an attempt to give more than we take, for every handbag and wallet sold a cork tree is planted in Portugal. You can even assign your name to your cork tree if desired! Plus we put a little keepsake in your package to remind you of your contribution.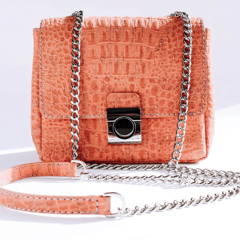 On completion, bags are sent to Australia and distributed to our valued customers to love! Our "no fuss" packaging is recyclable and plastic free, reducing waste.